Turkish military forces have begun an offensive targeting Kurdish forces in northern Syria, taking advantage of a controversial decision by Donald Trump earlier this week to order American forces to withdraw from the area and not stand in the way of Turkish forces.
The Kurdish-led Syrian Democratic Forces (SDF) said warplanes have "started to carry out air strikes on civilian areas" sparking "huge panic among people".
Ankara has said it intends to create a "safe zone" in order to return millions of refugees to Syrian soil, but the incursion also seeks to remove what it deems the terrorist threat posed by Kurdish fighters in the area.
The Turkish Armed Forces, together with the Syrian National Army, just launched #OperationPeaceSpring against PKK/YPG and Daesh terrorists in northern Syria. Our mission is to prevent the creation of a terror corridor across our southern border, and to bring peace to the area.

— Recep Tayyip Erdoğan (@RTErdogan) October 9, 2019
The Kurds are an ethnic group some 40 million strong, scattered across Turkey, Iran, Iraq and Syria but without their own country.
They have long fought for an independent state, but their host countries have resisted, particularly Turkey which has even gone so far as to ban the Kurdish language in an attempt to suppress their ethnic identity.
This struggle has at time manifested into open war, and in 1978, some Kurds formed a militant wing called the Kurdistan Workers' Party (PKK) in order to fight these battles.
Despite the terrorist designation, Kurdish fighters – among them PKK members – have been staunch allies of the US in the fight against the so-called Islamic State (Isis) in Syria.
After Syria descended into civil war after the 2011 Arab Spring uprising, Isis gained a strong foothold in the country, and western nations and Kurdish forces were successful in largely driving them out of the country.
The Kurds now control a large area of northern Syria along the border with Turkey, and it is this that has made Ankara nervous.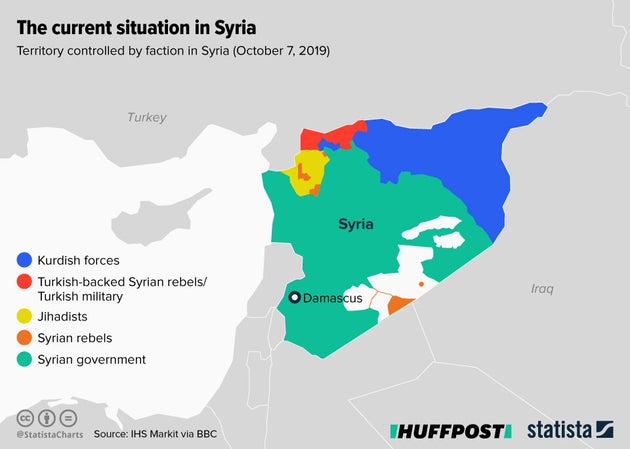 Trump's decision to allow Turkish forces through areas where the US military operates dual patrols with Kurdish forces was an abrupt policy change that caught just about everyone, including his own party, off guard.
The president has framed it as part of his 2016 campaign promise to extract the United States from "these endless wars".
In a strongly worded statement, Kurds accused Washington of failing to abide by its commitments to its key allies.
The SDF said in a statement: "The American forces did not abide by their commitments and withdrew their forces along the border with Turkey.
"We will not hesitate for a moment in defending our people."
Source :